Trailers carry significant weight and endure long-term vibration with complex suspension set-ups. Couple this with the vast distances they cross, and it's clear why skipping service intervals isn't a wise idea.
Instead of running into trouble, stress and a caravan breakdown, engage with a professional caravan service as part of your journey plan. This can include simple trailer repairs or even regular maintenance checks. We invite you to have a read of what this entails below.
If You Tow It, We Repair It
Trailer repairs and services aren't limited to only caravans. We offer our services with a range of vehicles, including:
Caravans, both domestic and commercial
Boat Trailers
Gooseneck trailers
And 5th  Wheelers
However, we are not able to work on motor homes or campervans.
Repairs & Service
Our team of qualified mechanics have spent over forty years working in the caravan and trailer industry. They have extensive experience repairing trailers for both industry and holiday uses, and as such, they can undertake any servicing or repairs needed. Our services include:
Refurbishment and maintenance of all types of towing trailers
During the Service
Prevention and regular maintenance are key to keeping your trailer running smoothly. Servicing your trailer is part of that. This is an overview of what will occur during your service.
The three functional areas will be checked.
When it comes to your wheel and braking systems, your wheel bearings and the seals will be checked, repacked and replaced. Your brake systems will be checked and adjusted, as will your handbrake. All elements will also be cleaned.
Connectivity and setup function checks involve lubricating wind downs, roll-out awnings and drop-down legs and ensuring that they are in working condition. We also check your jockey wheels to ensure they remain in good repair.
Safety testing, the third functional area, checks all traffic lights, after which we replace any globes. We also ensure the total brake system functions safely.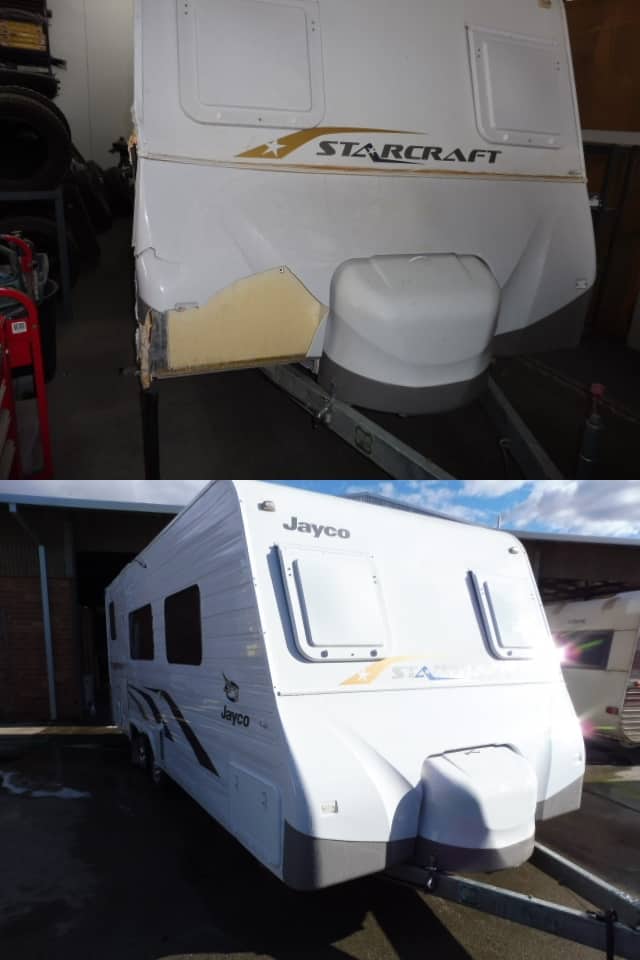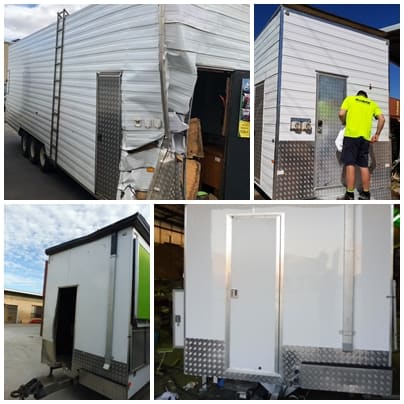 Insurance Repairs
When it comes to trailer repairs, it is crucial to ensure you are trusting your trailer with a reliable crew. We at Allways Caravans are fully licenced and accredited to take on insurance repair work for anything from full smash repair to cracked window replacements.
Service Frequency
When it comes to the frequency of your services, that depends on the way in which you use them. If you use your trailer daily, service intervals of 5,000km are recommended. However, if your trailer has been resting in the garage, services should occur every six months – or before use after a long period of rest.
After Crash Repairs
An accident can severely damage your trailer and business, as it not only affects the trailer itself but also adds stress and inconvenience into your working life. Before you experience this, have a talk to us about the assistance we offer when it comes to after crash repairs. Our experienced team will repair your trailer professionally and promptly, and you will be able to return to the road as soon as possible.
Service Exploration Caravans
When you're on the road in the harsh Australian outback, the last thing you need is a faulty trailer or caravan. Our exploration caravans are tested for design and toughness in any Australian environment, and for any location. However, even the best-designed caravans require servicing to ensure that all aspects of the caravan are running effectively and efficiently, as they should.
During our service, we check the three functional areas, as well as your living spaces, drawers, cabinets and plumbing for leaks, electrical circuit and air-conditioning operation. If there are issues, we will replace or rectify We will also rectify any mechanical issues, replace tires, and can also assist with internal refits and refurbishment.
Contact Us Today
If you are looking for a reliable team to assist you with your trailer repairs, or if you have any questions about this article, give All-Ways Caravans a call. With over forty years of experience with maintaining our fleet of rental caravans, our mechanical team has experience in every repair possible on a caravan and trailer.
We can undergo anything from internal refits and refurbishment to tire replacement, electrical repairs, air conditioning service and replacement or rectification of mechanical issues. Call Allways Caravans today and travel with the peace of mind you can only get from high-quality workmanship, efficient turnaround and competitive prices.